The Swedish Shipowner Stena's first E-Flexer Ropax of a series of eight vessels, named Stena Estrid was floated on 16 January 2019 at AVIC Weihai Shipyard, China. The third E-Flexer with yard project number W0267 also had the keel laying in the same day. Stena Estrid has a length of 214.50 meters with a freight capacity of 3,100 lane meters and the space to carry 120 cars and 1,000 passengers. She is scheduled to enter the sea between Dublin and Holyhead in early 2020, followed by two more sisters who are planned to start operating the Liverpool Belfast line in 2021.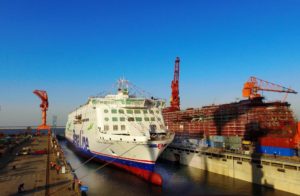 The E-Flex concept is described as a new generation of Ropax vessels focusing on energy efficiency and flexibility. This goal can be easily achieved by introducing the energy efficient solutions innovated by WE Tech Solutions.
The compact and robust modular designed WE Drive (Variable Frequency Drive) enables efficient, flexible and economical power distribution. In Power Take Out (PTO) mode, the propulsion machinery operates in combinator/variable speed mode via WE Drive, while the shaft generator provides the vessel's electric network with considerable electrical power that results in variable speed and optimised efficiency of the Main Engine.
The Efficient Power Distribution solution utilises the common DC-link to distribute power in energy efficient and economical ways. Large electrical consumers such as thruster or large compressors can have their dedicated Inverter Units (INU) connected directly to the common DC-link. The solution also enables efficient power distribution and controlled short circuit currents, which allows lighter switchboards in marine installations.
"AVIC is always willing to cooperate with international companies, such as WE Tech Solutions, to reach a win-win situation. The combination of WE Tech's reliable solutions and AVIC's mature shipbuilding technology brings the most energy efficient ships to the sea. We strongly believe that WE Tech's innovative and proven technology will lead and further develop the shipping industry", comments Mr Hongbing Liao, the CEO of AVIC International Ship Development (China) Ltd.
WE Tech's hybridisation solutions display proven and highly reputed technologies in operation of more than 30 vessels across a variety of shipping sectors up to date and it acts as the game-changing leader in the global shipping industry.